2023 Spring Festival Holiday Notice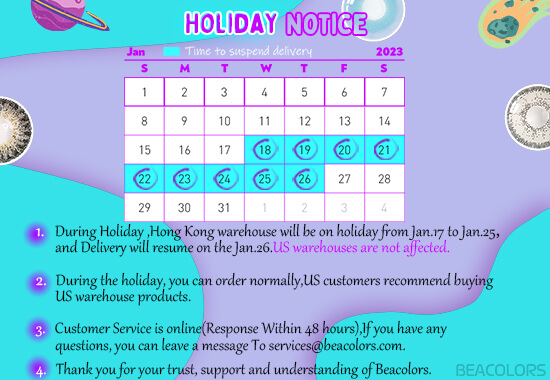 1. Holiday Time: Jan.18TH-Jan.26TH
2. Regarding the shipment of products during holidays:
①Orders can be placed 24 hours a day during the holiday period.
②Hong Kong warehouse will be on Holiday from Jan 17th-25th, and delivery will resume on Jan 26th. Therefore, Hong Kong warehouse orders may have a 3-5 days delayed delivery.
③US Warehouse is not affected. We recommend customers in the United States buy Us warehouse products.
3. Customer Service Support During Holidays:
If you have any questions, You can leave us a message or contact us: services@beacolors.com. We will reply within 48 hours During the Spring Festival holiday. Please note: that it may take some time for us to respond to your inquiry as we respond to your inquiries in the order they are received. We apologize for any inconvenience this may cause.
Thank you for your trust, patience, support, and understanding of Beacolors. 🥰